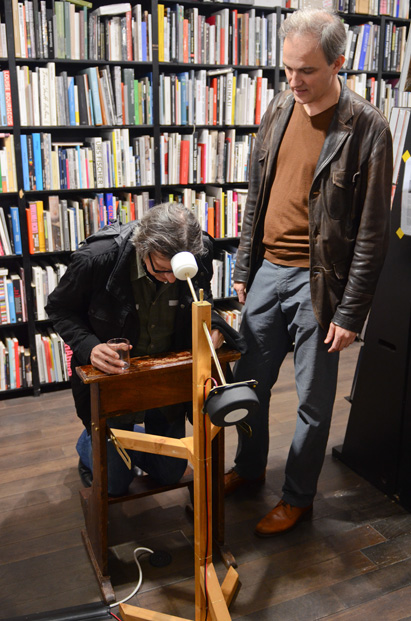 photo: Andreas Diem
VOLKMAR KLIEN (AT)
Haltung, 2015
from: Rezeptionshaltungen – assisted exercises (2012–2015). Mixed media, wood, brass, POM-platic, 1-channel sound feed, 200 x 100 cm.
While the vastness of the digital worlds, especially in their beginning, seemed to promise greater freedom and anarchy, they can only be created and maintained in strict abidance to authorised standards institutions and international industry organisations. All participation in them requires subordination and thus submission. In the case of music things behave in rather similar ways. Participation in the musicking community is possible only by willingly and joyfully accepting the recipient's position on offer. The recipient takes position kneeling down to put his or her forehead on the dedicated block in front through which music enters his or her head. While this recipient's position is taken in compliance with the rules given, the actual sounds audible were created actively negating proper protocols of decoding digital data; the composition's source materials were created from e-books interpreted not as text but audio files.
Location: Buchhandlung Walther König im MuseumsQuartier MQ Wien, Museumsplatz 1, 1070 Wien; September 26 - October 11, 2015, daily 12 am - 7 pm
In collaboration with TONSPUR Kunstverein Wien.