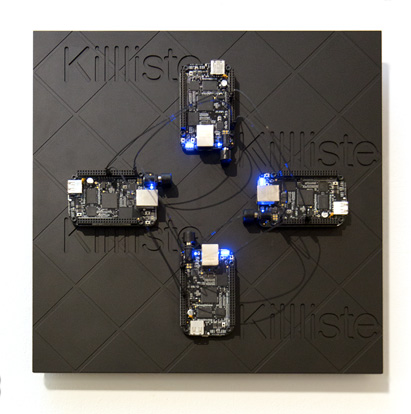 Ubermorgen, Killist, 2015, installation view, photo: © eSeL.at
UBERMORGEN (USA/CH/AT)
Killlist, 2015
Mixed Media Installation, Killliste.txt, 4 Beagle Bones, Kunstharz, 35 x 35 x 5,5 cm Courtesy the Artist and Carroll / Fletcher Gallery, London.
"We will have tears in our eyes and hurt in our heart while blowing the targets brains out. We live in heroic and wild times. We are alive!"
The "killlist" is a death list (content), a network protocol (software), and an electronic installation (hardware). Inspired by the US secret service and the highly failure prone killists used by the military (e.g. JPEL-Joint Prioritized Effects List). The targets are algorithmically determined on the basis of their capital redistribution data. At the moment there are 362 names on the "Killist". The list is a "technical" object in permanent negotiation, which circulates encrypted through the web in a fluid particle form. In the technical installation four "Beagle Bones" are serially interconnected with one another – here there is also a data fluidity in constant motion. When it comes to a standstill, the encrypted file is deleted and the system collapses.